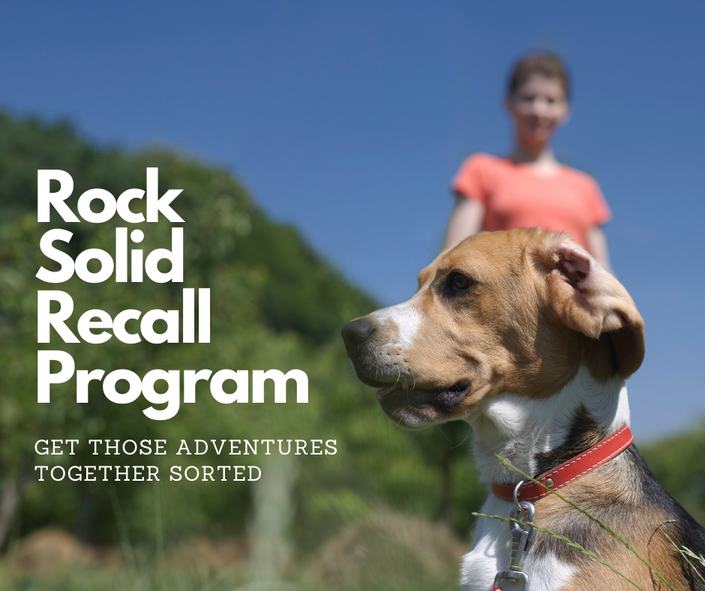 ROCK Solid Recall - PLUS Successful Training Plans
How to teach your dog to come back to you when called and enjoy your adventures together.
How to get your dog to come back to you in ANY situation!
BONUS **Without looking like a wally**
Imagine unclipping that lead, KNOWING with absolutely certainty that your dog will return to you when called.

Letting your dog off the lead doesn't need to be a gamble. Praying that they will come back and you won't be left simultaneously worried sick and frustrated - again.
In a very short time, you can build a wonderful reliable recall EVEN if your dog is currently totally distracted and ignoring you. I promise, I do it, and I teach it to frustrated owners just like you, every.single.day.
Getting your dog to come back to you can be a frustrating part of dog ownership, especially when you have a fly dog, who knows all the tricks in the book, but a life restricted to the lead isn't fulfilling for dog or owner either.
So what on earth are you to do?

In this course I share with you my well honed Solid Recall technique, which creates quick, reliable results EVERY TIME when followed correctly.
Is your dog: Chasing ducks? Playing with other dogs? Jumping up on people? Sniffing around? Selectively deaf? Have you been told that you'll never EVER teach him to come back to you? Have you tried and failed so many times that you have lost all hope of getting through to them?
Don't worry, we've got you covered my friend!
In this course you will learn
🚩How to find out what your dog loves the most
🚩How to supercharge your dogs highest reward

🚩How to get your dog to WANT to come to you (without behaving like a nutter)
🚩How to make sure it works in EVERY situation
REAL life skills PLUS training plans to keep you on track 💜
What's included?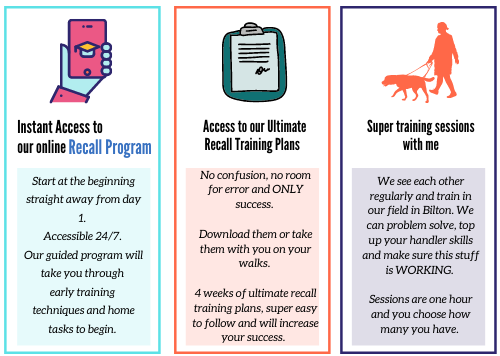 How long does it last and what's the cost?

We have a 6 week or 8 week option, our most popular is 8 weeks. Both comes with FULL and instant access to our fully guided Rock Solid Recall Online Program, access to our Ultimate Recall plans, full support throughout and private training sessions at our field in Bilton.
6 week program with FULL access including 3 x 1 hour training sessions - £49 per week.
8 Week program with all access including 4 x 1 hour training sessions - £46 per week.
Training sessions are available at our private training field in Bilton and are usually available on Monday or Tuesday afternoons. These do fill up quickly. We adhere to Covid-19 regulations at all times, including social distancing and all equipment is cleaned after each use. We train outdoors and in all weathers, please dress appropriately!
Have a question? Reach out to me 👉 [email protected]
Easy sign up 👉 HERE
Your Instructor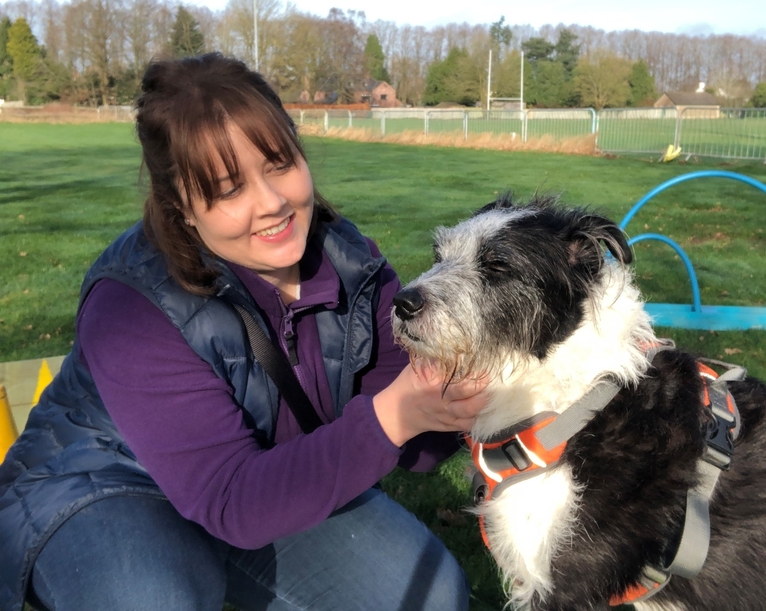 Dog Coach, Behaviour Practitioner and founder of Anna Hope Dog Coach.

Full member of the Institute of Modern Dog Trainers

Affiliate Trainer with EpicDog Training Academy Ltd

Student Member of the Association of Pet Dog Trainers

Dog Behaviour Accredited Practitioner

Over 6 years experience in Dog Training and Behaviour
Frequently Asked Questions
When does the course start and finish?
It is a completely self-paced online course and the content is available to you whilst you are training with us. Your duration is detailed in your welcome email.